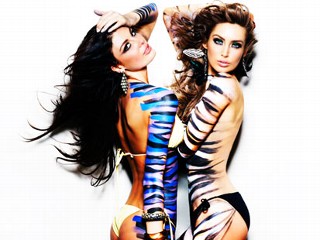 Well, they're not actually naked, they do have some body paint on. Right? So that's not really naked, more like just not wearing clothes.
The Miss Universe Organization is in a world of controversy yet again. New official photos have surfaced featuring many of the contestants topless, covered only in body paint.

Miss Universe 2010 contestants, Miss Albania Angela Martini, left, and Miss Ireland Rozanna Purcell, pose in body paint for a photo shoot. Critics of the pageant wonder if perhaps this year's official photos have gone too far. The contestants vying for the crown were photographed wearing little more than bathing suits and body paint, many of them topless.

Among the racy ladies who participated in the fleshy photo shoot was a topless Rima Fakih, Miss USA herself.  The organization is standing by the pictures, which were shot in Las Vegas. "I firmly believe, as a woman and as a mom … that you can be the full package," said organization vice president of public relations Lark-Marie Anton.

Miss Universe Contestants Topless Photo Shoot - ABC News
Need to Lose 9 lbs in Only 11 Days? -
Learn the Secrets Behind
The Idiot Proof Diet
and save 50% with this secret bonus code.